Subclass 186 Visa in Australia, also called Employer Nomination Schemes (ENS) are offering a fast pathway to permanent residency. This visa is available for sponsored skilled workers by employers of Australian. Subclass 186 is a visa that was created to meet the Australian labor shortage and help strengthen their workforce. It provides qualified migrants and families the chance to settle down and make a contribution to the economy of Australian. The Subclass 186 Visa is covered in detail, including the features, requirements, process of application, benefits and challenges.
Understanding Subclass 186 Visa
Subclass 186 Visa falls under General Skilled Migration Program (GSM). The Subclass 186 Visa is for Australian sponsored skilled workers and the visa is fall under three categories:
Temporary Residence Stream: This track is available with a temporary skill shortage to visa holders who had worked in their occupation for the employer on subclass 482 for at-least three years and want to shift to permanent residence.
Direct Entry stream: Direct entry is available for workers of highly skilled, who have been recommended by their employer. They must not have held a subclass482 visa in Australia for more than three years.
Agreement Stream :This stream applies to skilled workers selected by employers through a formal labor agreement.
Visa Subclass 186: Features and Benefits
Visa Subclass 186: Features and Benefits
Permanent Residency – The Subclass 186 Visa offers successful applicants with an Australia permanent residency with their eligible family.
Australian employer Sponsorship: The applicants is nominated for permanent residency by the sponsoring Australian company
Age exclusion: The Transitional Stream for Temporary Resident does not have a maximum age.
The Candidates may have to go through a skills evaluation to demonstrate their experience and qualifications according to their stream and occupation,
Study: You can study in any university of Australia with in the Visa time period.
Health and Character – All applicants, and members of their families must be in good health to avoid being a danger to the safety and public health.
There is no points-based test. Subclass 186 does not want the applicant to use a point system unlike other visa system.
Family members can apply for a visa with their skilled worker. They will be able to include family members who are eligible in order to allow them the opportunity of living, working, and studying in Australia.
Education and Healthcare Access: The Australian resident have free access to Australia's Medicare public healthcare system and can subsidize their children's education.
It is possible to get citizenship in Australia after a period of permanent residence and meeting some specific requirements.
Subclass 186 Subclass Visa: Eligibility criteria
The Subclass 186 visa applicants must fulfill several requirements that depends upon the stream.
Temporary Residency Transition Stream
The same employer must provide you with a temporary skill shortage visa subclass 482.
They must have an employer that is willing to nominate the employee.
Direct Entry:
They must have an employer that is willing to nominate the employee.
Make sure that you meet all the qualifications and skills requirements, If you are applying for a job.
Do a skill evaluation, depending upon the job.
 Streaming Agreements:
Nomination through an official labor agreement is necessary in this visa application process.
Cost:

 Subclass 186  Visa cost is AUD4,640.00 The cost is same for all the categories but the processing time is different for all the three categories. Before paying the cost make sure you are meeting all the requirements and your documents are complete. Subclass 186 visa application will not be granted if the person that nominate you withdraw the nomination and the position for which you must work is not longer available.
Subclass 186 Subclass Visa: How to apply
 Subclass 186 visa application process had some important points that you need to follow.
Employee Nomination: A nomination request must be submitted by employers to the Department of Home Affairs in order to nominate their skilled workers for permanent residency.
Visa: The applicants can apply for a Subclass 186 If the visa application is approved after the worker's nomination. This visa application will require the submission of documents that includes skills assessments, English Language Proficiency Results, Health and Character Checks, etc.
Visa and Decision: After obtaining the application, if the visa is granted, it will be by the Department of Home Affairs.
Family Members:
Subclass 186 visa allows the candidate to include their family members in the application with them. The family members that can apply are: 
Partner
Dependent Children under the age of 23 year
Dependent Children of partner under the age of 23 year
Challenges and Considerations
Employer Sponsorship (Sponsorship by an employer): To be eligible for permanent residency the applicants must have a willing employer. It may take some time to negotiate and find a job.
Occupation lists changes: The list of skilled professions change frequently and it may influence the eligibility of subclass 186
English Language requirements: If the candidate native language is not English then It can be a challenge for these applicants to reach the English proficiency standard
Health: Some applicants will face issues that are related to the health or character requirements. This could have an impact on their visa applications.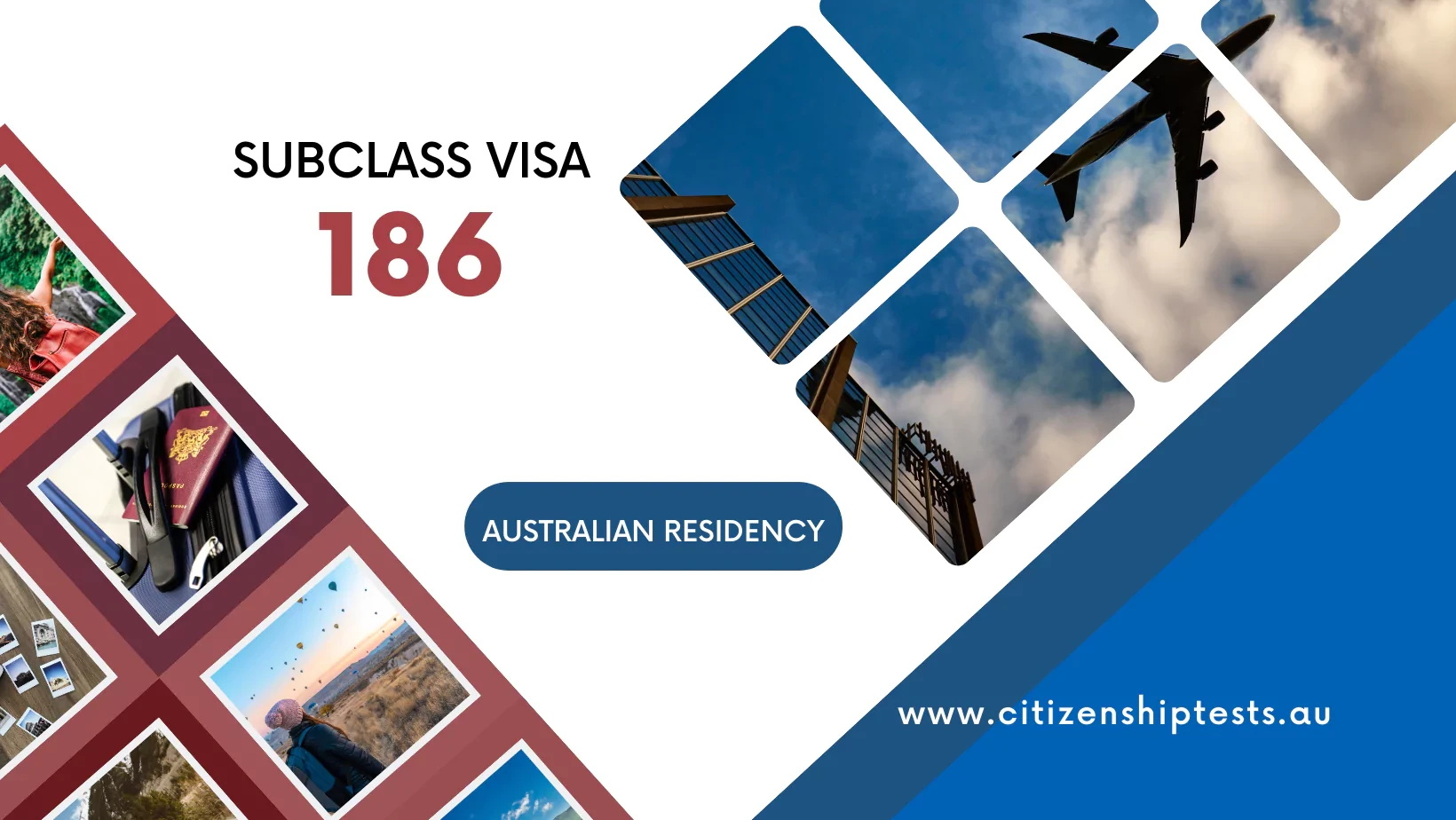 Sponsor Requirements:
Subclass 186 visa are sponsor by any person and that person must meet some requirements that are:
Operating in Australia actively and lawfully
Required a paid employee to fill up the vacancy 
Pay a market competitive salary to the applicant
Offer the candidate a skillful job according to their qualification and the job time period is about minimum two years 
Follow all immigration and workplace relations laws of Australia.
Conclusion
Subclass 186 Visa is part the Employer nomination Scheme, that provides opportunity to get permanent residency in Australia for those people who can be sponsored by an Australian Employer. You can more easily navigate your immigration journey of Subclass 186 visa after knowing the detail guide that includes features, categories, benefits challenges and many mores. This visa is not just a means to permanent residency but it also allows the skilled immigrants and their families to make a meaningful contribution to economic and cultural diversity of Australia's.