The temporary COVID-19 Pandemic Event Visa is also known as the Australian Subclass 408 Visa- Covid visa. In the reaction to global COVID-19 Pandemic this visa was introduced. The Subclass 408 Covid Visa was designed to overcome the challenges of the COVID-19 pandemic. This visa allows the temporary entry for individuals who cannot leave Australia because of border closures, or are affected by different method.. As COVID 19 outbreak is now over but this visa is still open and new applicant are eligible for it .This comprehensive guide will examine the Subclass 408 COVID Visa's key features, the eligibility criteria, the application process, the benefits and the challenges.
COVID Subclass 408 Visa
In March 2020, the Subclass 408 COVID visa was launched in response to a COVID-19 pandemic that caused widespread disruptions in travel and closures of borders. Those person that are already arrived in Australia but are not able to depart due to travel restrictions, these visa are made only to help them. The visa has been spitted into different streams to cater for the various categories of pandemic-affected applicants.
COVID visa eligibility criteria
The standard on which a person can apply for a COVID Subclass 408 Visa depends upon the  stream the applicant is applying under. There are two main streams:
COVID-19 Event Stream:  Those Individuals that are in Australia for a  time period  and are affected by the COVID-19 virus pandemic, but don't fall under another visa category are.
COVID-19 (Events Endorsed by Government) Visa Stream: Those Individuals that are sponsored by Australia to attend specific pandemic-related events.
COVID-19 visa (Pacific Labor Scheme Stream): Individuals from Pacific eligible countries that were not able to return to their home country due to COVID-19 travel restrictions.
How to Apply for a Subclass 408 visa
Determine eligibility: The applicant must determine the stream that is most suitable for his or her circumstances, and then ensure that they are eligible for it.
Application for visa : The applicant must fills out all required forms, and submits the supporting documents to prove their eligibility.
The requirements for each stream are different. For example, It depends upon the  stream you are apply, the applicant may have to show that they work in critical importance industry that  were affected by the pandemic or the Australian Government, or be part of the Pacific Labour Scheme.
Character and Health Checks: All candidates and their families that were applying for this visa must pass a health check to make sure they don't pose a threat to the public safety or health.
Subclass 408 COVID visa: Benefits
Different benefits that this subclass 408 visa offers to those person that are affected by the COVID-19 are:
Temporary stay: 408 visa allows people to temporarily stay in Australia during the pandemic even if there are no other options for visas.
Flexible solutions: Many visa streams are flexible and can be adjusted to various circumstances.
Employers in essential industries are able to continue working and contributing to the provision of services even during a pandemic.
Access to services: The visa holders in Australia have easy access to healthcare and essential services at any time of uncertainty.
This visa gives a peace of mind to those people who are not been able to go to their home due to pandemic or are experiencing difficulties.
When you are applying for this visa then you can also take in your family member who live in Australia.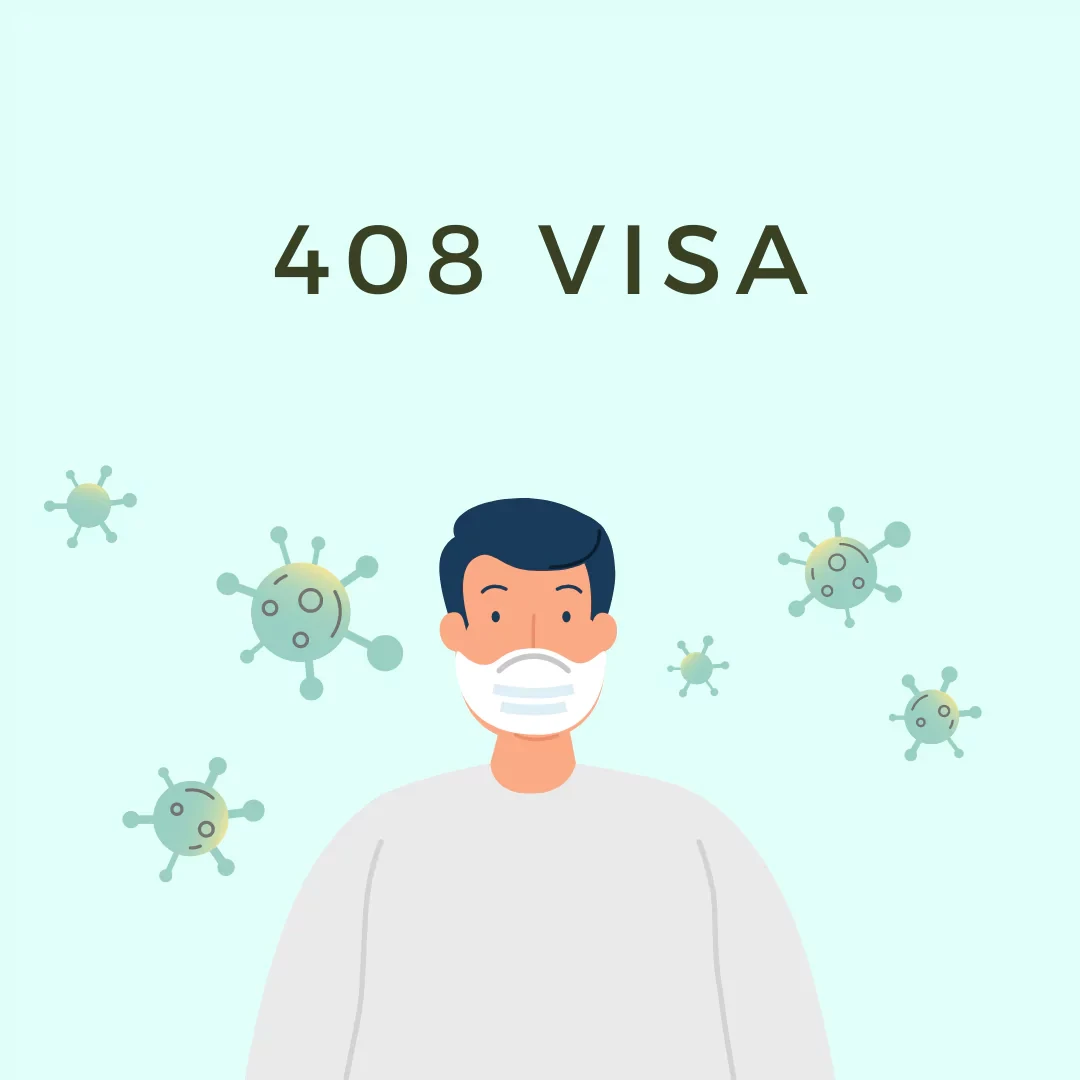 Duration:
408-Visa consist of two types:
6 Months
If you are working in an non-critical sector then with this visa you can stay in Australia for up to six months
12 Months:
If you are working in critical-sector area that includes agricultural, food processing, health aged, disable or child care and many mare then with this visa you can stay in Australia for up to twelve months


What are the challenges and considerations?
The Subclass 408 Visa provides valuable solutions for the pandemic. But, there are some considerations and challenges that applicants must know and that are:
Temporary nature: This visa is only purpose is the person temporary stay in Australia. The Individuals should plan to return home when pandemics or other specific situations are over.
Criteria specific to each stream: Each stream is governed by a set of eligibility requirements, so applicants should ensure that they are meeting the criteria for the stream in which they have chosen.
Health Insurance: It is necessary for all the visa holders to keep adequate coverage for health insurance during their time in Australia. The COVID Subclass 408 Visa is only valid for a period of six or twelve months.
Cost:
408-visa cost is free. You do not need to pay for this visa. The applicants must apply online and will be in Australia when applying for this visa. The applicants must choose 'yes' to the question, of 'visa application charge concession'  and choose the option of 'Nil VAC' option in the application form. When you are applying then you must any employment or an offer of employment proof . You must have a substantive visa with the rights of works that expires within 90 days or less, or that expired 28 days ago or less.
Time:
408-Visa processing time is faster if you have submitted all the documents on time and the government will contact you when your visa request is approved. Th processing will take longer time if any of your document is missing and your submitted application is very complex. If you want to withdraw your application then you had to do it before the decision of the visa result come. After applying for the visa you can see the processing time from https://online.immi.gov.au/. You can also see if your any document is missing or not from that link
Conclusion
This visa is not permanent and it introduced for individual to stay in Australia temporary because of the global COVID-19 Pandemic era. This visa is deigned to overcome the challenges that occurs during the pandemic. The cost and processing time is also describe that can help you with the visa requirements and other things. This visa is an important lifeline to those affected by the pandemic. It gives them the opportunity them to remain safe, and contribute during this unprecedented crisis.