491 Skilled Work Regional Visa, or the Australian Subclass 491 Visa as it is known in Australia, provides route to  skilled migrants and their families to regionally migrate. The Subclass 491 was begun in Australia in November 2019. The aims of this visa is to address the skill shortages while encouraging economic growth and population expansion in the regional areas. The main characteristics, eligibility criteria and application process of Subclass 491 Visa guide are covered in this blog.
Understanding Subclass 491 Visa
Subclass 491 Visas is a visa that allows skilled workers to reside and work within designated regional regions in Australia. A sponsor, either from a regional state/territory government or family living in the designated regional area must e requires by the applicants for the subclass 491 visa. The candidate will stay and work for up five years in Australia regional with this Subclass 491 Visa. It also provides them the way to permanent residency by way of Subclass 191 Regional Skilled Permanent Residence Visa.
Important Features of Subclass Visa 491
Important Features of Subclass Visa 491
Regional Sponsorship: A sponsor will be a representative for the government that are in charge of that region, or another family member resident within a certain area.
Resident for Provisional: A provisional Visa in The Subclass 491 will allow the visa holder and any eligible family member to stay, study and work in regional Australia up to a maximum of five years.
Occupation Lists of Skills: The Applicants need to identify a skilled occupation from either the Medium-Term Strategic Skills Lists or Regional Occupation Lists for the region they are applying.
Points Based System: The applicants need to score 65 or more points in order to qualify for Subclass 491. There are many ways that will determine the number of points you receive that includes your age, English Language Proficiency, English Qualifications, Work Experience, etc.
Permanent residency route: Subclass 491 visa holders who reside and worked in Australia region for at least three (3) years may qualify to apply to the Subclass 191 (Permanent Residency Skilled Region) Visa.
Subclass 491 Visa Eligibility Criteria
Sponsorship :Applicants are required to be sponsored either by the government of an appropriate regional state or territory or from a qualified family member residing in that designated region.
Trade for nomination: The applicants must list a trade on the skilled occupation list applicable to the area designated if they want to be eligible for this Subclass 491 Visa.
Skills Assessments: An approval of assessments is necessary by the relevant assessor authority for making sure the qualifications and previous work experience of the applicant must match with the chosen job is required.
Expression of Interest (EOI):An expression of interest through Skill Select's online system to express their intention to apply for a Subclass 491 VISA must be submitted by all the applicants
Score : Score at the Subclass Test of 65 or more points is required to apply for the Subclass visa 491 Factors that includes work experience, age, qualifications and English fluency are all considered in calculating points.
English Language Competency: Candidates must show they are experienced in the English Language through approved English Language tests.
Health and Character: A health and moral requirements test must be satisfied by all applicants as well as their family in order to be able to work without a concern for public safety and health.
Subclass visa 491 application process
The Subclass 491 Visa application had many important steps that includes:
Sponsorship – Applicants are required to be sponsored either by the government of an appropriate regional state or territory or from a qualified family member in that area.
Skills Assessment – Applicants are required to obtain from their relevant assessment authority a skill evaluation that is positive for the occupation they have chosen.
Expression of interest: Candidates submit their EOIs through Skill Select. Here, they provide information about the skills, qualifications and experience they have, along with how many points are maintained.
State Nomination: The applicant may be recommended to the Department of Immigration for the Subclass 491 by a regional state government or territory
The candidate has to submitted the complete applications of visa with supporting documents when they received the nominating state/territories or sponsorship from family.
Health and character checks: A physical examination as well as to get a certificate of police clearance from every country where they spent more than 12 months in the previous ten-year period by the applicants and their families.
Visa Grant: The applicant will receive his Subclass 491 Visa when the application is successfully approved. This Subclass 491 visa allow them a temporary permit for residency in regional Australia.
Subclass visa 491 is a Visa with Advantages
Subclass 491 Visa: The Skilled migrants and their families achieves many benefits with this Subclass 491 visa that are:
Regional Scholarship: A regional government, a qualified family member or state/territory sponsors the applicant to make it easier for him/her to settle and get employed in a designated region.
Provisional Resident: A Subclass 491 VISA allows the holder and any eligible family member to stay, work, or study in Australia regional for five-years' time period.
Candidate's chances to be invited for an interview are increased by receiving additional points from the State/Territory nomination or sponsorship.
Permanent Residence Possibility: Subclass-491 visa holders may qualify to apply for Subclass-191 visas Permanent Resident Skilled Regional if they have been living and working for at least 3 years in Australia regional
Access to healthcare and education: The Subclass491 Visa holder can access Australia's Medicare system for public health and receive subsidized schooling.
It is possible to get citizenship in Australia after a period of permanent residence and meeting some specific requirements.
Challenges and Considerations
Subclass 491 Visas offer many benefits but it also had some challenges that the candidate may face:
Regional obligations: Subclass 491, Visa holders would be eligible Subclass 191 Visas Permanent Residency Skilled Region if they work and stay in a designated region for a period of atleast three (3) years.
Available Occupation: The Lists of skilled occupations can be change. This changing may affect subclass 491 applicant eligibility.
Requirements for Sponsorship: The State/Territorial Governments and Family Sponsors may have requirements that are specific for the applicant nominations.
Requirement for High Number of Points: The minimal requirement to be eligible for a Subclass Visa 491 are 65 points and it may not be achievable by all applicants.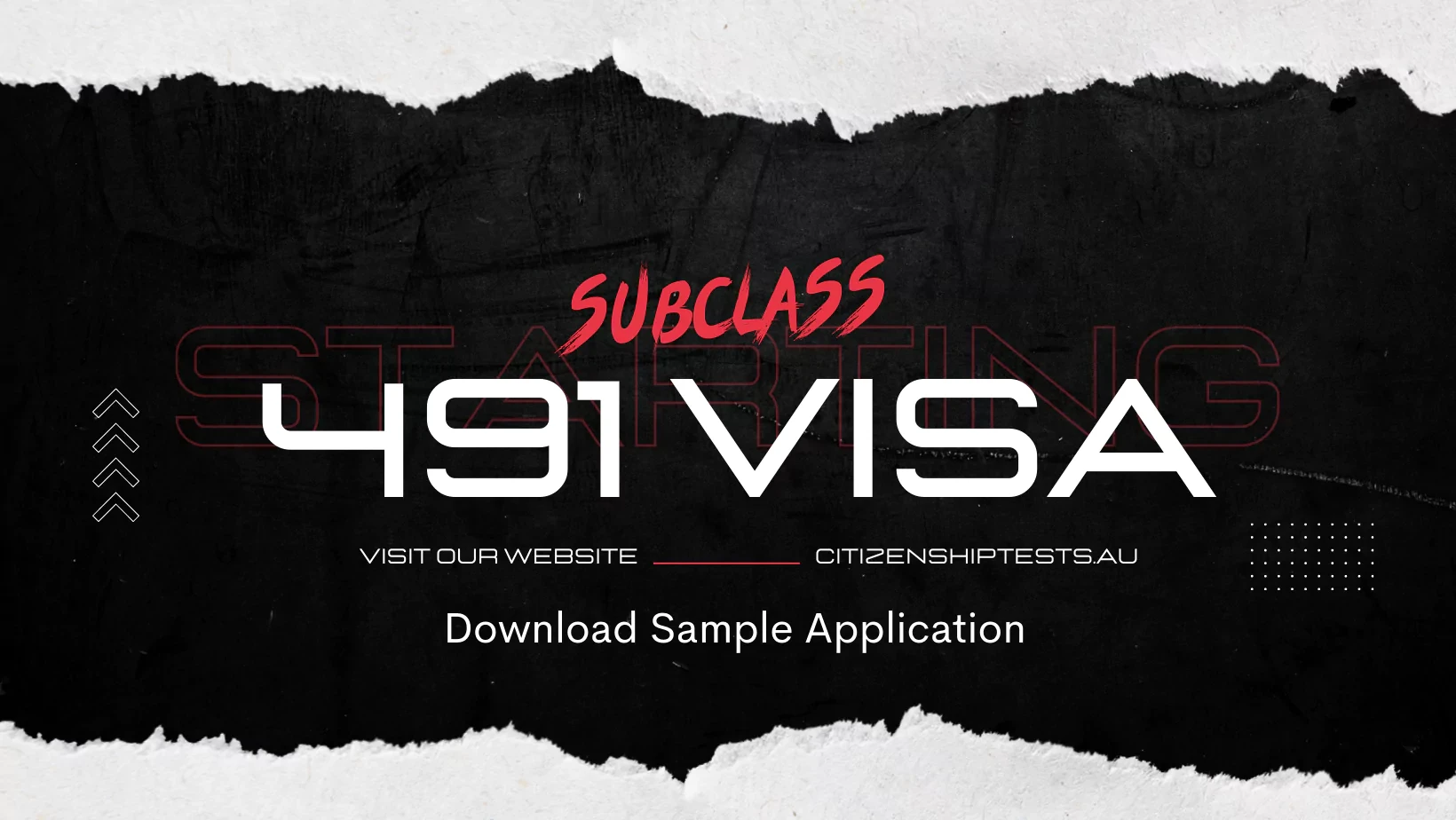 Conclusion
Subclass 491 Visa Australian will give skilled workers an opportunity to obtain a permanent residency visa and to help those regional areas that are facing skill shortage. The key characteristics, eligibility criteria, application process that will allow applicants to better navigate immigration, benefits and challenges of Subclass 491 visa are describe in details. This visa is not just a means for candidate to settle in the regional areas of Australia but also allows for skilled migrants as well as their families to be valuable contributors.