Australian Citizenship Test Practice 5
The Australian Citizenship Test Practice 5 provides a helpful resource for those who want to become Australian citizens. This citizenship practice test is meant to gauge applicants' familiarity with Australian values and laws as well as their knowledge of Australian culture, politics, and government. There are a variety of topics covered, such as Indigenous culture, democracy, and the responsibility of citizens.
By taking this Australian Citizenship Test Practice 5, you can become more familiar with Australian citizenship's requirements and expectations. This citizenship practice test is a great way to understand the history and culture of Australia, as well as strengthen your connection with Australians. With this test, prospective citizens are able to prove their dedication to embracing Australian culture and values as well as becoming active members of Australia's society. You must try the Australian Citizenship Test Practice 5 in order to gain more knowledge. The Australian Citizenship Course is also designed to give proper training and knowledge to test seekers and permanent residents who want to become Australian citizens.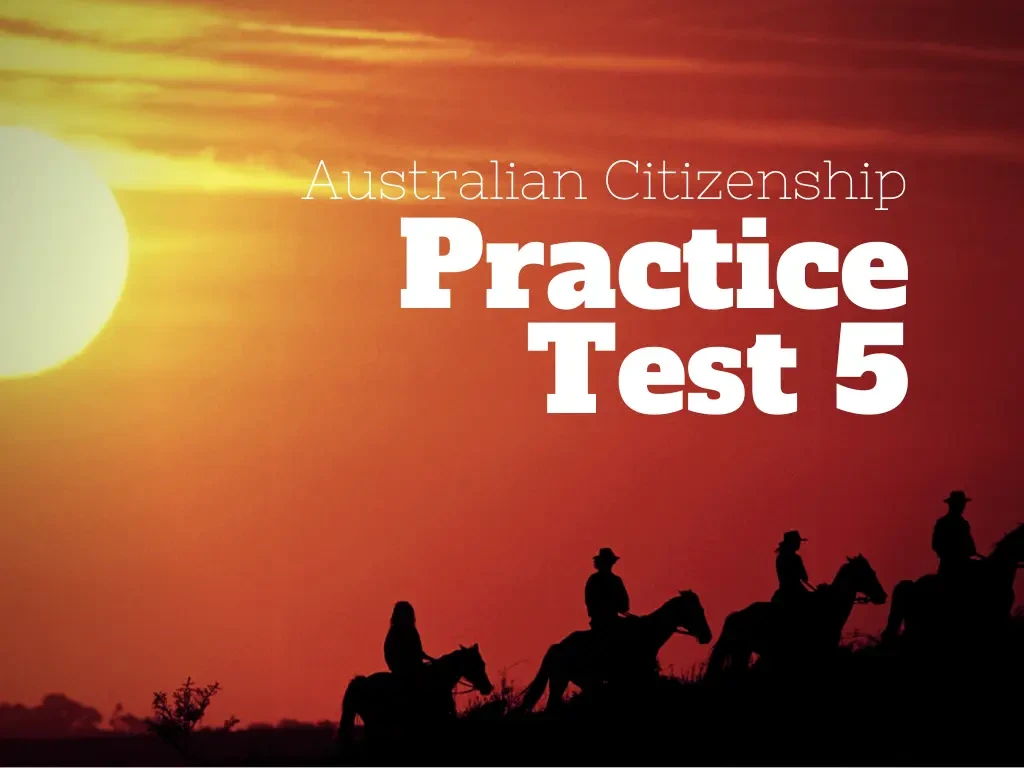 Citizenship Processing Times
Everyone who wants to get Australian citizenship is very concerned about the processing times. The Home Affairs Department of Australia always tries to process the applications in the shortest possible time, but there are still many factors that hinder the processing. As of July 2023, 90% of the citizenship applications had been processed within a 10-month timeframe. The following table shows the latest upcoming citizenship ceremonies in 2023.
According to the statistics, if you have applied under the category of citizenship by conferral, your application will take around 10 months on average, while for those who applied under the category of citizenship by descent, their application can be processed within 4 months.
Tips to Speedup the Citizenship Processing Times
Always provide correct and up-to-date information and fully complete the citizenship application.
Try to avoid big cities or congested suburbs as your chosen destination for the citizenship ceremony, as they increase the wait times because of a large pool of applicants.
Make sure to check at least twice a day the citizenship ceremony portal dates, as sometimes people leave the space or change the date due to any circumstances, and you can avail of that position to give speed to your citizenship processing.
Always keep yourself in touch with the latest news from Home Affairs, as they announce new ceremony venues and you can avail yourself of that slot.
Top Australian Citizenship Gift Ideas
As any kid or young adult becomes an Australian citizen, there is no other thing better than having an Aussie hat. It represents the true Australian kid's culture and traditions in Australia. This could be the best Australian citizenship gift.
Time is very important in the whole world. Giving a beautiful Australian clock makes it a more significant and memorable moment that everyone remembers. This will be one of the best Australian citizenship gifts.
Young Teens are fond of wearing their favorite shirts and Australian shirts on Australia Day, which makes their day. This is a must Australian citizenship gift to every teen who going to become a citizen.
This not only protects you on sunny days of Australian summer but also gives memorable memories every time you wear it. One of the most useful Australian citizenship gifts ever.