Australian Citizenship Practice Test 10
The Australian Citizenship Practice Test 10 is designed to replicate the format and content of the actual citizenship test. It consists of multiple-choice questions covering various aspects of Australian society and governance. By taking this practice test, you can familiarize yourself with the types of questions you are likely to encounter and assess your readiness for the real examination.
The milestone of becoming an Australian citizen comes with many benefits. These include the ability to vote, access to social services, and participation in democratic processes. The Department of Home Affairs administers practice tests to ensure prospective citizens have a good understanding of the history, values, and traditions of Australia. This article will examine the Australian Citizenship Practice Test 10 and its format. It also explains how this test helps people prepare for their journey to citizenship.
Free Australia Citizenship Test Questions
The Australian Citizenship Test assesses an applicant's understanding of Australia's values and laws. This test is designed to assess whether an applicant has a good understanding of Australia's national symbols and democratic principles. It also aims to ensure that they understand the rights and responsibilities of Australian citizenship. 
Test 10 is a practice test that allows applicants to become familiar with the questions and gain confidence before the exam. The Australian Citizenship Practice Test 10 provides a thorough assessment of a variety of Australian topics, including history, culture, and government. The test consists of questions with multiple choices, and applicants must select the right answer. It consists of twenty questions and requires a minimum score of 80% to pass. On the website of the Department, you can also access online practice exams, such as Test 1.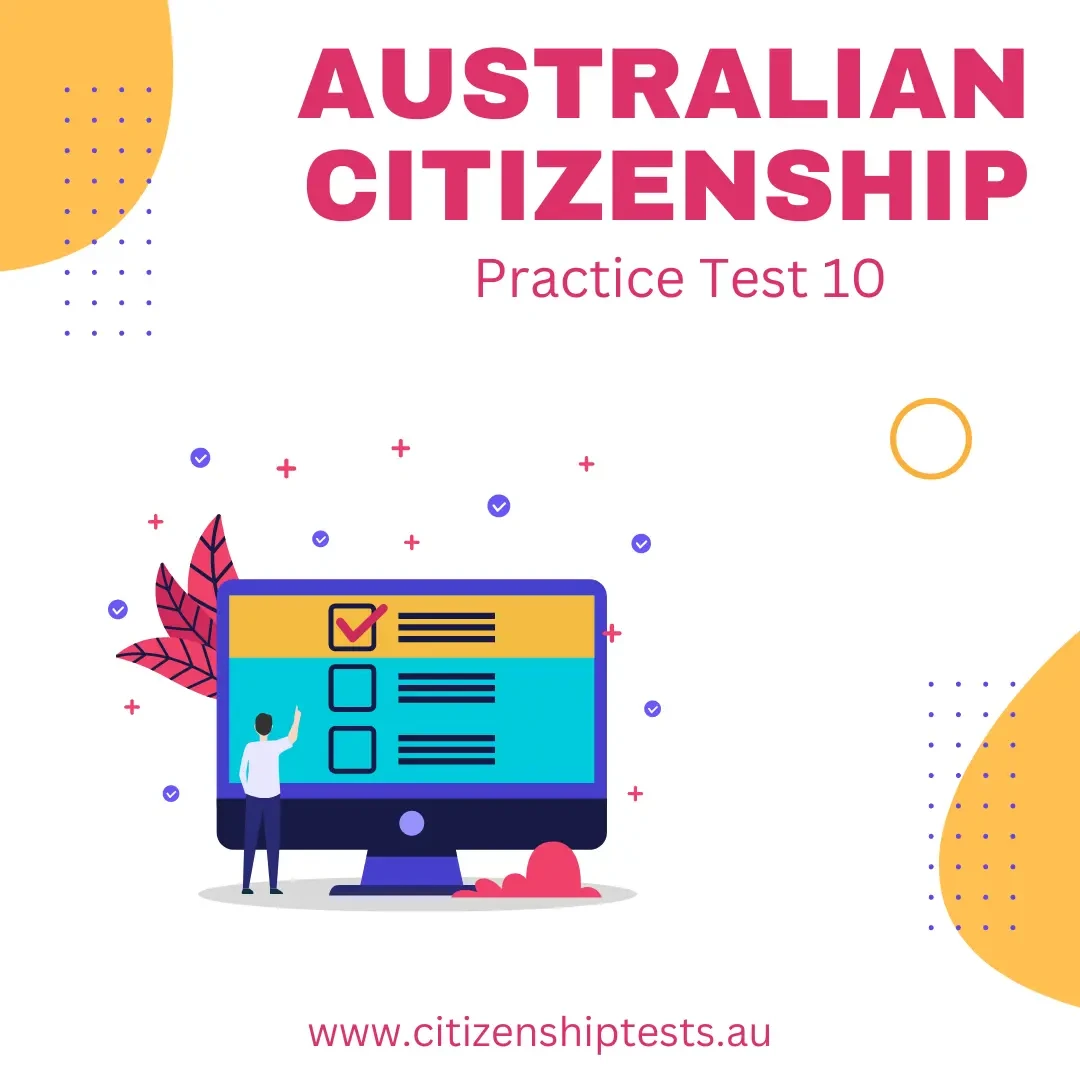 The practice exams simulate the actual exam and help individuals assess their knowledge. They can also identify any areas that require additional study. Preparing for the test can be enhanced by reviewing past tests and researching relevant Australian history. The Australian Citizenship Practice Test 10 is a vital part of the citizenship application. The practice test helps applicants gain a better understanding of Australia's history, culture, and values. The test encourages people to engage in the social, economic, and political aspects of Australia. It also instills in future citizens a strong sense of responsibility and pride, strengthening their connection to their homeland. It is a vital tool for those who wish to become Australian Citizens.
The test allows applicants to become familiar with Australia's history, values, and traditions, while also preparing for their official examination. By dedicating time to studying and practicing, aspirants can embark confidently on the journey of embracing Australian citizenship's privileges and duties.