Australian Citizenship Test Practice helps you become an Australian citizen, which is a significant milestone in itself. To achieve this, applicants must pass the citizenship test, which evaluates their knowledge of the country's history, values, and governmental structure. The test plays a crucial role in assessing an applicant's understanding of Australia's core principles and their commitment to becoming an engaged and active citizen. One of the most effective ways to prepare for this test is by taking Australian citizenship practice tests. In this article, we will explore the importance of practice tests, and their benefits, and provide guidance on how to make the most of them.
Citizenship Test Australia
The Australian citizenship test is a multiple-choice test that all applicants must pass. The test is designed to assess whether applicants have a basic knowledge of Australia and its values, as well as an understanding of the responsibilities and privileges of Australian citizenship. This test has 20 questions. The applicant must correctly answer 15 of them (75%) to be successful. Questions are selected from 400+ questions and include topics such as Australian history, geography, government, and culture.
Start Course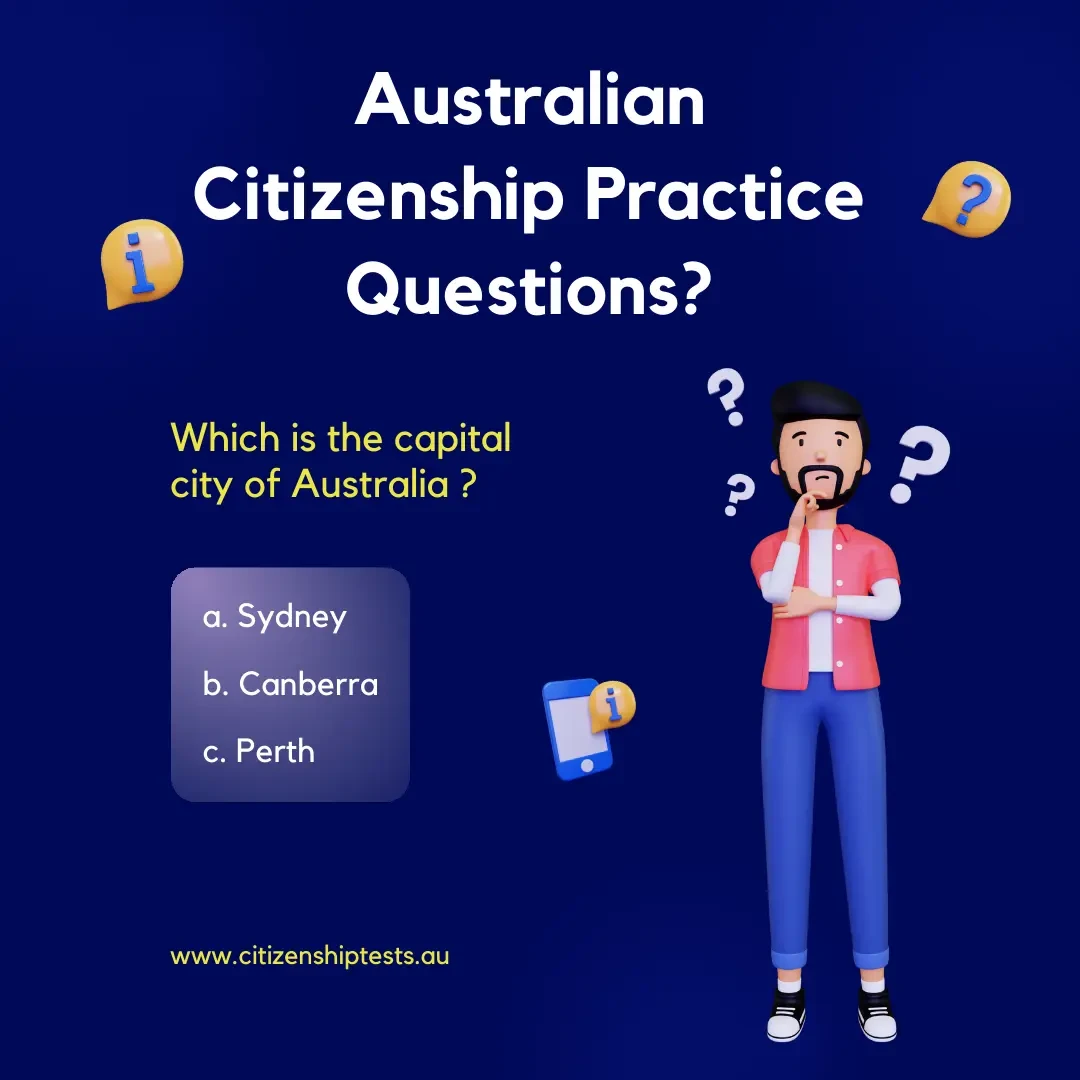 The test is divided into four sections:
Australia and Its People
Australian values
Australia's Democratic Beliefs, Rights, and Liberties
Australian Government and Law
In November 2020, the Australian Values Section was added. This section contains five test questions that assess the knowledge that applicants have of Australian values, such as freedom, democracy, equality, and tolerance. On our website for citizenship tests, candidates can do practice exams from 1 to 10. It is helpful to take a practice test in order to familiarize yourself with the test format and questions. You can also find a variety of resources on our website such as citizenship courses,  practice exams, and study materials.
They can help you prepare, particularly if your knowledge of Australian history and culture is limited. It is essential to begin studying as soon as possible if you plan to sit for the Australian Citizenship Test. You will need to spend a great deal of time studying.
How to Prepare for the Australian Citizenship Test
Before diving into the preparation process, it is essential to understand the format and content of the Australian citizenship test. The test consists of 20 multiple-choice questions covering a range of topics, including Australian history, government, values, symbols, and the rights and responsibilities of citizens. Applicants must answer at least 15 questions correctly (75% pass mark) to succeed. The test aims to evaluate applicants' knowledge and commitment to becoming an integral part of Australian society.
Reading Material: You can download the citizenship test booklet from here. The official resource material, such as the Australian Citizenship: Our Common Bond booklet, is a primary source for the test. Candidates should thoroughly read and understand this material before attempting practice tests. You can also listen to the citizenship test podcast. 
Try our free online sample test: You can also find a mock test on the Department of Home Affairs website. It is important to practice the Australian citizenship practice test questions in order to understand the questions and how the actual exam will be formatted. Questions: Mimicking the exam environment by setting a timer during practice tests helps individuals develop time management skills and adapt to the time constraints of the official test.
Take advantage of the online resources. Online resources offer practice exams and study material. The resources are a great way to get ready for the test, particularly if you're not very familiar with Australian culture or history.
Get a study partner. Working with someone you know can keep you motivated. The two of you can discuss and quiz each other on the subject and solve the Australian citizenship practice test questions.
Focus on Weak Areas: Australian Citizenship Test Practice Questions often highlight areas of weakness. Devote extra time to studying these subjects, seeking additional resources or guidance if necessary. Effective strategies to pass the Citizenship Test Australia 2024:
Understand Australian Citizenship Questions and Answers: When reviewing Australian Citizenship Practice test Question results, pay special attention to incorrect answers and carefully read the explanations. Understanding the reasons behind incorrect responses is crucial for improving knowledge and preventing similar mistakes in the future.
Question Bank: Utilize a range of practice test sources, including official practice tests provided by the Department of Home Affairs, online platforms, and study guides. This variety exposes candidates to different question styles, ensuring a well-rounded preparation.
How to Pass the Australia Citizenship Test 2024?
The Australian Citizenship Test Practice Questions are a valuable resource for anyone preparing for the Australian citizenship test. CitizenshipTests offer a simulated exam experience and enable applicants to gauge their knowledge and identify areas that require further study. By familiarizing themselves with the format, structure, and types of questions commonly asked, individuals can build confidence and improve their chances of success.
The Australian Citizenship Test Practice Questions and video courses also play a significant role in enhancing overall understanding. As candidates answer questions and review explanations for both correct and incorrect responses, they gain a deeper understanding of Australia's history, values, and systems. The repetition and reinforcement of key concepts through practice tests can solidify knowledge and help applicants retain information more effectively. You should always make sure you do online practice and citizenship test preparation, regardless of where you get them. It is important to practice using questions from the most recent Australian citizenship test practice 2024.
Australian Citizenship Test Practice Questions and Answers
Australian citizenship test sample questions serve as a valuable tool in preparing for the Australian citizenship test. By offering candidates the opportunity to assess their readiness, familiarize themselves with the test format, and identify areas for improvement, practice tests play a vital role in increasing confidence and optimizing performance. Remember to approach practice tests strategically, reviewing explanations for incorrect answers and focusing on weak areas. With thorough preparation and dedication, individuals can confidently take the Australian citizenship test and embark on their journey to becoming citizens.
Citizenship Test Criteria
In order to meet citizenship test criteria, you must already be an Australian permanent resident, be living in Australia for the required duration of time, and have completed the citizenship application process. The test is a part of the citizenship application, and it's compulsory to sit and pass the test.
If you have applied for the Australian Citizenship test and are meeting the citizenship test criteria, you'll receive an email or letter confirming your eligibility. This letter will include all of the details you need about the citizenship test including the test Centre, test date, and the documents you must bring to the center for ID verification purposes.
Australian citizenship test study material
The questions on the test will be based on the "testable section" in the book Australian Citizenship, Our Common Bond. The testable part of the book contains many facts that you should memorize, as no one knows which ones will be on the test. Australian Government Update: A new citizenship test will be implemented by the Australian government.
If the legislation is passed, the new test may still include some of the questions in the guide "Australian Citizenship: Our Common Bond." However, it will also have new questions that will assess the applicant's knowledge of Australian values and their commitment. For example, the new possible questions will ask migrants about their opinions on religious freedom, gender equality, and how they perceive them. Questions will be asked about issues like forced marriage and violence against women.
Australian citizenship test rules
You will be prohibited from referring to any resource materials or the book during the test. Once you submit your answers for the test, you can see your result on the computer screen, whether you passed the test or not. The test can be taken again the next day, if possible. Your test results will automatically be transferred into your application for citizenship if you pass the Australian Citizenship Test. The overall outcome of your citizenship process will be the result you wait on.
People also talk about F.A.Q
How long is the citizenship test and test format?
The test consists of 20 multiple-choice questions and needs to be completed within 45 minutes. That means that each question is presented with three answers. You must pick the answer you feel is best. This test will be only available in English. A basic level of English is required to pass. You need to get 15 of the questions right to receive a passing score. In order to pass, you must submit the test in the timeframe.
Is Australian citizenship test-free?
There is no extra charge for your citizenship test. You will be charged for the test as part of your citizenship application. You can check the fees for the citizenship application according to your scenario. No extra fees are required if you want to take the citizenship test again.
Where is the citizenship test location?
Citizenship test centers are in every state, and any eligible permanent resident can check the directions on a map. For further information, check the Home Affairs website.
What is the citizenship test passing score?
The passing score is 75%.