Most of the people around the world are interested in getting the Australian citizenship. Top 10 Benefits of Australian Citizenship were discussed today in this article. The Australian citizenship gives you the chance to become part of an exciting and dynamic nation. It also provides a wide range of benefits and advantages. In this article, we will examine all of the advantages that Australian citizenship offers. Political rights, social benefits and career advancements are all included. If a person knows the privileges and benefits that come with Australian citizenship than it can help them to understand its value.
Top 10 Benefits of Australian Citizenship are:
1. HealthCare and Wellbeing:
The government of  Australian gives its citizens the facility to use public health services using their Medicare card. A person that have Medicare card can avail free of cost health checkup and further medical procedures which comes under this scheme. Furthermore the Australians not only enjoy this scheme in country, but also overseas where Australian have mutual recognition of their health services like United Kingdom.
2. Education and Research Opportunities:
Australians have access to one of the best education system in the world, and renowned for high standards. You can benefit from lower tuition and government funded scholarships. You can get the chance to be in the top-notch educational programs and institutions overseas on full scholarship with Australian citizenship. Moreover many of the education till high school is free of cost and many vocational programs also come with Apprenticeship, through which students earn money while enjoying their studies. Australian educational system also provides HECS loans(Interest Free) to student who further want to study, and which can be paid back partially once anyone start doing work. This will provide you with excellent learning opportunities and professional growth. Australian universities focus on researches and new technology so if you went to do higher studies and want your career in research based field then choosing Australian universities are one of the best decision of your life. By studying in Australia you can also work part time because their time schedule allows a student to study and work together so you cannot face any financial issues.
3. First Home Buyer Grants:
Australia will give Home grants and stamp duty tax exemptions to their citizens who want to purchase their first home. This grant can some times goes up-to $50,000 depends upon situation and also provides home loan guarantee to banks on behalf of their beloved citizens going to have their new first home. This initiate have had helped many Australians to own a new home, without worrying for 20% home loan deposits. Duty exemptions acquiring is definitely come under Top 10 Benefits of Australian Citizenship.
4. Visa Free Travel:
Australia comes under the list of having one of the strongest Passports in the world. The Australian Passport comes under 5 most strongest passports in the world and Australians can go to 144 countries without having a visa or visa on arrival. This thing will give a big impact on their travels and also saves their time and money in getting a visa. That's the reason this benefit is under one of the Top 10 Benefits of Australian Citizenship.
5. Small Business Grants:
Small business grants are taken by many Australians whenever the government announces them. From having a free CCTV installation to financial this grants is up to $10,000. Australian government always help their people, where it needs the most, which also makes Australia business friendly for the small sized companies and newly startups and this is one of the Top 10 Benefits of Australian Citizenship.
6. Kids Vouchers for entertainment:
Every state announces free vouchers for their citizens every year , to help the running businesses and to support local community. Kids vouchers are one of them, where it ranges from having swimming classes to have discounts on the stationary. Some of the entertainment vouchers are for the families where the parents took the child to amusement parks to have fun.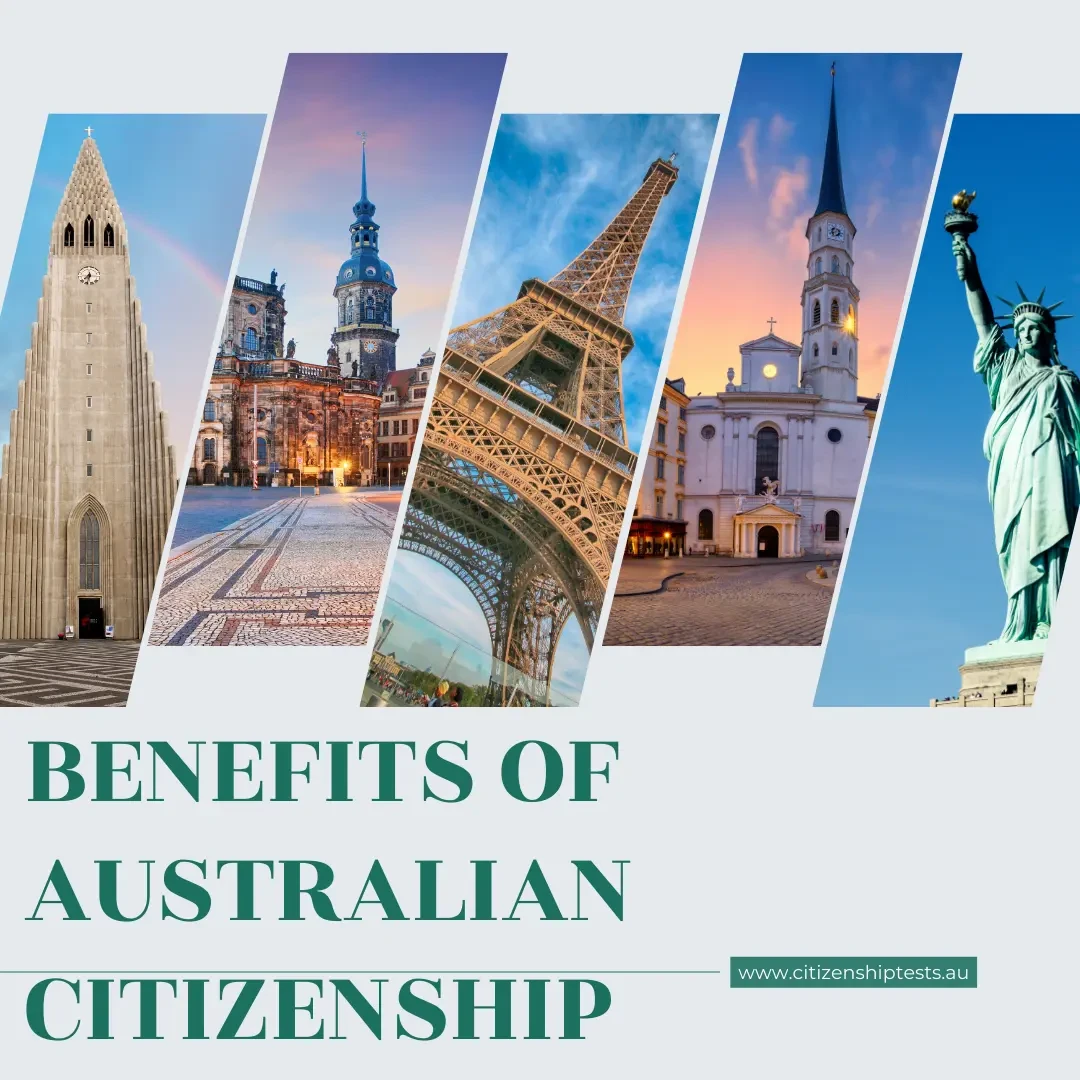 7. Public Housing:
Some Australians also take benefit of having public housing where they cant afford to any unit on rent, depends upon the availability. State governments also introduced some schemes where they partially fund or help they families in their housing rentals. Public housing schemes are observed in the Top 10 Benefits of Australian Citizenship.
8. Social service payments:
One of the best Top 10 Benefits of Australian Citizenship is the access to financial and social aid. When you get an Australian citizenship, you will have an access to a wide range of welfare and social services called Centrelink offered by the Government. There are number of social and financial services available for Australian that ranges from welcoming a new born in family to relocation grants. The government of Australia try their best to help their Australians wellbeing and makes their life easier as much as it can.
9. The Sponsorship and Family Benefits:
Australian citizenship extends its benefits to family members. You can sponsor your family for citizenship or permanent residence as a citizen. The Australian immigration policies promote the well-being and unity of families by promoting family reunification. Your family will get all the basic opportunities that a normal Australian gets because this country believes in equal opportunities for all people.
10. Dual Citizenship and cultural diversity:
The dual citizenship in Australia is one of the biggest Top 10 Benefits of Australian Citizenship. It give access to individuals to retain their citizenship of another country and enjoy the advantages of Australian citizenship. The provision provides for flexibility, and it also helps people to maintain ties to their countries of origin. Australian citizenship also celebrates diversity and allows citizens to participate in cultural events that highlight the heritage and traditions.
Australian Citizenship opens many opportunities and advantages. Australian citizenship provides individuals and families a bright and stable future. This citizenship gives enhanced opportunities for career advancement, political rights and social benefits. You can get paid leaves form your job if any emergency came or you become ill.  This citizenship comes with numerous privileges including political, social and economic benefits. There are many other benefits of having Australian citizenship, we have covered the Top 10 Benefits of Australian Citizenship. It again may vary from person to person depending upon their circumstances and needs.