485 visa that is also known as the Temporary Graduation visa and this visa is a very popular choice for students from abroad who have just finished their study in Australia. This visa allows recent graduates the opportunity to improve their skills and to potentially move to permanent residency by working in their chosen field. 485 visa main features, eligibility criteria, application process benefits and challenges were explore in this guide.
Understand the 485 Visa
This is a temporary 485 visa which allows international students to temporarily stay and work within Australia after they have completed at least 2 years of studies in Australia. There are four different streams of this visa:
Graduate Work Stream – This is for those graduates that have obtained qualifications within occupations on the Medium-term Strategic Skills List. This visa has a duration of up to 18 months.
The Post-Study work stream: This type of 486 visa is for the graduates with higher education degrees, that includes Master's or Doctoral. The durations of this visa depending upon the qualifications level like: 3-5 years for graduates with Bachelor's and Masters degrees and 4-6 years for Doctoral-level graduates.
Second Post-Study work stream: This type of 485 visa will be granted to the holder of first temporary visa in the post steady workstream that are graduated from an Australian institution located in a regional area with a degree. The candidate be stay in Australia for 1 or 2 Years but it  depends upon the regional area where you stay when you had the first temporary graduate stream and the institute from where you study.
Replacement Stream: This type of 485 visa is for those graduate that had lost their time duration of visa  during the pandemic and do not travel to Australia due to COVID-19 restriction.  The time period of this visa is the same as your previous visa time.

485 Visa only allows the applicants to nominate for one stream and after you apply for that stream it cannot be change or replaced.
485 Visa Cost:
485 visa cost is AUD 1,895.00 for all the stream expect for Second Post-Study work stream, its cost is AUD 745.00. The processing time of all the streams are different. Make sure to submit your application and all documents on time if you do not want to late your visa processing time. The age limit for applying for 485 visa is up to 50 years. You cannot apply if your age is more than 50 years.
All 485 Visa applicants must meet certain requirements
 Visa 485 eligibility criteria had some certain requirements that applicants must satisfy:
Students that have completed their studies recently from Australia must be able to show that they've studied for two years or more in Australia within the past six months.
English Language Standards: According to the stream of study, candidates may be required to demonstrate English language proficiency.
A qualification that is relevant must come from a recognized Australian education institution, and it should match with eligible courses in the chosen stream.
D. Health and Character: The health and moral requirements in order to avoid posing a threat to the public's health or safety must be meet from all the applicants that applied.
Document Checklist for 485 visa
Passport size photo on Plain background
Current Passport copies – 1st & 2nd page and any other pages which has visas or entry stamp
National ID Card
Birth Certificate
Marriage Certificate (If applicable)
Updated Bank statement or Savings certificates of last three months having sufficient balance (*****) to support the Australian visit
Current Employment Documents (If Applicable)
Polio Certificate
Australian Federal Police Clearance Certificate
Name Changed Evidence (If Applicable)
The results of a specified English Language Test (IELTS/TOFEL/CAE/PTE)
Completion letters from your education provider and Certified copies of course transcripts
Other documents that can be supportive / helpful must be taken with the applicants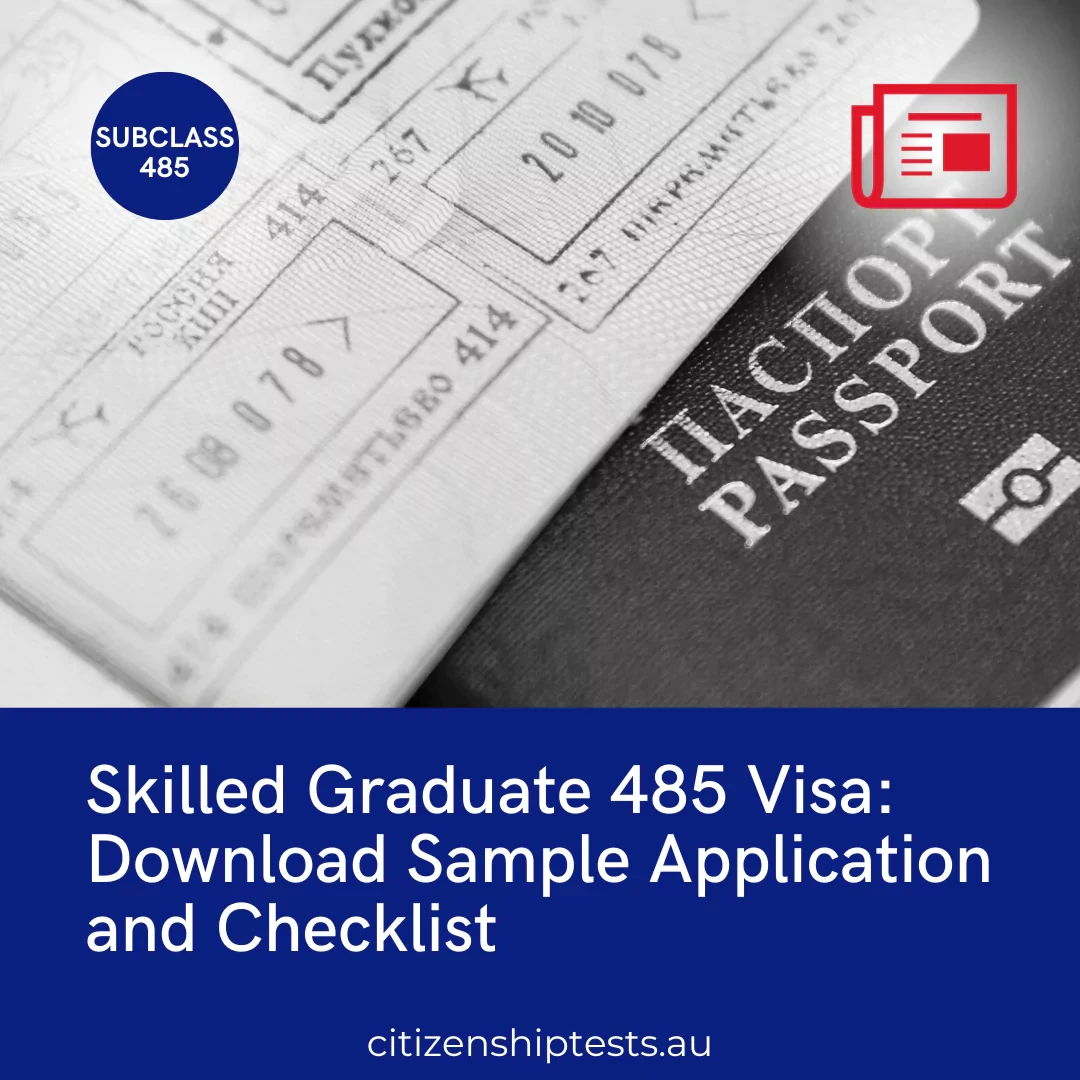 Visa 485: Benefits
485 Visa provides many advantages to International graduates that include:
a. Work Experience: Students can acquire valuable work experiences in their fields of study. This enhances employability.
b. This Temporary Visa provide students the opportunity to stay temporarily in Australia, giving them the chance to learn about the employment market and make connections.
c. A Pathway to Permanent Residence: This 485 Visa can also be used as a pathway to permanent residency via other skilled immigration pathways.
Your visa may allow family members to be included in the application if you are a graduate students.
Visa Options for Post-485
You can explore different options to stay longer or make a transition from temporary residency to permanent residency when your Post 495 visa expired..
Sponsorship for Employers: The graduates can qualify for an employer sponsored visa if they had secured skilled employment in Australia , like the Temporary Shortage Skill (TSS), subclass 482, or the Employer nomination scheme (ENS), subclass 186.
Skilled Migration: Recent graduates may explore options for skilled migration, that consists of the General Skilled Migration Program (GSM). This program offers a pathway that are based on points to permanent residency.
State Nomination Programs: The graduates who are seeking permanent residency they can be nominate through some states or territories offer programs . These programs can provide extra points as well as support.
Regional opportunities: The rural areas graduates can access migration routes that are less restrictive.
Challenges in visa application
Visa 485 has many benefits but there are some potential issues that the applicants may face:
Visa Processing Times – Visa processing time can be affected by demand or individual circumstances. Applicants should plan in advance.
Checks on Character and Health: Certain visa applicants might face problems that are related to character or health requirements which could impact their visa application .
English Language Competency. For some, this can pose a challenge and may require extra preparation because some applicants native language is not English.
A change in immigration policy may affect the eligibility of certain pathways or streams.
Family Members:
485 visa allows the candidate to include their family members in the application with them. The family members that can apply are: 
Partner and Parents
Dependent Children under the age of 23 year
Dependent Children of partner under the age of 23 year
Conclusion
Australia will provides international graduates a fantastic opportunity to improve their employability by gaining valuable work experience through this 486 visa. The eligibility criteria, application process, benefit options and after-visa options  and other things about this visa are covered in this guide.