You should know the top 10 benefits of Canadian citizenship before you plan to migrate there. Many people want to move abroad for a better future, and then, with some policies, they get that country's citizenship. Canada is a destination for many people, and it is also known as the paradise of immigrants. Every year, many immigrants come to Canada and get settled there. Canada has become an ideal place for people to decide to come and permanently settle down because of its welcoming nature, increasing economic growth, easy immigration processes, and other opportunities. Approximately 80% of the people who come to Canada for jobs or studies will apply for citizenship after fulfilling some criteria. Canadian citizenship will provide a lot of benefits that make it an attractive option for permanent residents and newcomers. From political participation to social services, and economic opportunities to travel privileges, a wide range of advantages are open for a person after becoming a Canadian citizen. In this article, we will explore the top 10 benefits of Canadian citizenship.
The top 10 benefits of Canadian Citizenship are:
1. Political Participation:
A very important benefit that a Canadian citizen gets is participation in political activities without any restrictions. After a person get Canadian citizenship, they can open a public office, or hold a different campaign for a political party. They can vote according to their choice to any political party in the federal or municipal elections. A person can also appear as an individual candidate or join any party without constraints. So, with their involvement in politics without restriction will enable them able shape the country's leadership and policies and it is a very great benefit as a citizen.
2. Travel without a Visa: Top 10 Benefits of Canadian Citizenship
Canada's passport is known as one of the strongest passports in the world. You can apply for a Canadian passport after you become a citizen, and these passports will be renewed after 5 to 20 years. You can travel to 185 countries without a visa because your passport is the only thing that you need to travel. This passport offers visa-free or visa-on-arrival opportunities to many countries. You can enter or leave Canada at any time if you are a citizen. So, if you have a Canadian passport, then you don't need to worry about the visa; just book a flight and travel freely. This benefit is very valuable for those who frequently travel for business or other purposes.
3. Jobs Opportunities:
The economy of Canada is very strong. They provide a lot of job opportunities with a lot of benefits. If you are a Canadian citizen, then you get first priority for jobs and other opportunities because Canadians always consider their citizens first. There are some sectors like government contracting, security-sensitive jobs, or other jobs that only take Canadian citizen as their employees. So, as a Canadian citizen, you will apply for these jobs and can work there without any restriction. Government jobs in Canada will give a lot of salaries, benefits, and opportunities and with Canadian citizenship, you can get these types of jobs. This is the major point that covers the Top 10 Benefits of Canadian Citizenship.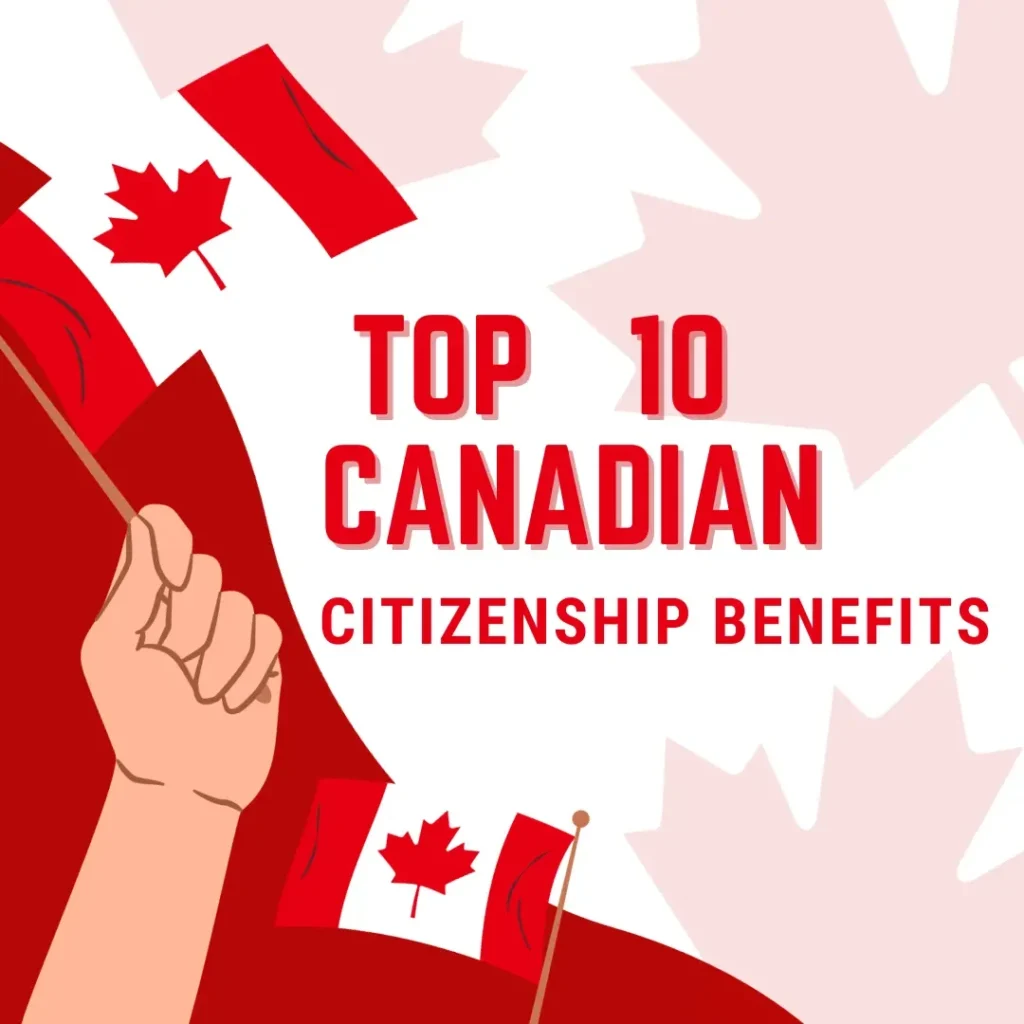 4. Canadian Kids: Top 10 Benefits of Canadian Citizenship
If you become a Canadian citizen after completing all the steps for that process, then your kids will automatically get Canadian citizenship. Whether your kids are born in Canada or in any other country, they will become Canadian citizens just because of your citizenship. They do not have to go through all the processes from where they pass; they are Canadian citizens after they are born. This opportunity is one of the main advantages of the top 10 benefits of Canadian citizenship.
5. Education: Top 10 Benefits of Canadian Citizenship
Canada University is ranked as one of the top universities in the world. They provide quality education, and many people come to Canada to study. As a Canadian citizen, you can be admitted to any university in Canada, and your children will get free education in any province or city of Canada until they reach the age of 18. After 18, you had to pay for your education. As a Canadian citizen, if you want to study abroad, you can go and come back after your studies, and it does not affect your citizenship because Canadian citizens will have access to stay for a long-term period outside Canada. You can get the consular support of Canada as their citizen when you studying abroad or go abroad for any business or meeting.
6. Live Anywhere:
If you are a Canadian citizen, then it is not restricted to you to live only in Canada; you can live in your home country or in any other country for a long period of time without the fear of losing your Canadian citizenship. You only had to come to Canada if you wanted to cast a vote, but if you have lived in any other country for more than five years, then you cannot vote. It is one of the biggest benefits that comes under the list of the top 10 Benefits of Canadian Citizenship.
7. Dual Citizenship:
Dual citizenship in Canada is one of the top 10 benefits of Canadian citizenship. Canada provides individuals with access to retain the citizenship of another country and enjoy the advantages of Canadian citizenship. A person can hold dual or multiple citizenships as a Canadian citizen. This access provides flexibility, and it also helps people maintain ties to their countries of origin. You can travel to your home country and live there for a long time because you have dual citizenship. A person gets unique opportunities for travel, business, and cultural connection with these dual citizenship benefits.
8. Social Services:
The citizens of Canada have access to a wide range of social services and benefits, including healthcare, education, and unemployment benefits. These services are often more extensive for citizens than for permanent residents. The citizens will get free healthcare services for full coverage. The Canadian public health care system will provide any type of health service to its citizens without taking any charges. If you are a permanent resident, then you get free healthcare services, but for only some issues, so, get your citizenship as soon as possible to get full coverage and free healthcare services in Canada. Social services are the reason for the Top 10 Benefits of Canadian Citizenship.
9. Protection: Top 10 Benefits of Canadian Citizenship
The Canadian law provides full protection to all Canadians. All citizens will get all the constitutional rights and freedoms, which include protection against deportation, which permanent residents are subject to if they commit serious crimes. If you have Canadian citizenship, then it gives you stronger legal status within the country, and many people come to Canada for this purpose and that is one of the Top 10 Benefits of Canadian Citizenship.
10. Global Mobility:
Canada is recognized as the strongest and most powerful country in the world. The citizens of Canada will experience greater peace of mind knowing they have a stable and secure status in a developed country. This global recognition status is very beneficial for business ventures, international job opportunities, and retirement planning. Canadian citizenship will provide a level of security during times of global instability or crises, like in COVID-19, where all the citizens will get a lot of security and benefits.
Canadian citizenship opens the door to many opportunities and advantages. This citizenship will provide a lot of benefits that extend beyond the legal and political realms. Citizenship offers a person a sense of belonging, access to a wide array of services, and the opportunity to shape the country's future through political participation. You can enjoy enhanced economic opportunities, travel privileges, global mobility, etc as Canadian Citizens. We tried our best to cover the Top 10 Benefits of Canadian Citizenship in this article, if you like it do share it with your friends and family.