Many people want to know the top 10 benefits of UK citizenship before they plan to go abroad to study, get jobs, and have a better future, and after fulfilling some requirements and passing a test, they get that country's citizenship. The United Kingdom is a destination and the most common place for many people who want to move abroad. Every year, many immigrants come to the UK and then settle there. The United Kingdom has become an ideal place for many people to decide to come and permanently settle down because of the strong country's nature, increasing economic growth, powerful passports, and other opportunities. If you get citizenship, then your British passport will be valid for 10 years, and there is no need to renew it before the time period. Getting British citizenship is an excellent way to establish your identity and citizenship worldwide because the British are known as the strongest and most powerful country. British citizenship comes with a lot of benefits that can greatly impact an individual's life. In this article, we will explore the top 10 benefits of UK citizenship.
The top 10 benefits of UK citizenship are:
1. United Kingdom Passport
UK or British passports come under the list of the most powerful and strongest passports in the world. After you get British Citizenship, you can apply for a UK passport as a normal British Citizen. These passports will be renewed after 10 years. You can travel to 188 countries without any visa because your passport is the only thing that you need for traveling. This passport offers a visa-free opportunity and you do not need any visa-on-arrival thing. You can enter or leave the UK at any time if you are a citizen. So, if you have a British passport then you don't need to worry about the visa just book a flight and travel freely. This benefit is very valuable for those people who frequently travel for business or other purposes.
2. Vote Rights: Top 10 benefits of UK citizenship
A very important benefit that a UK citizen gets is to vote according to their choice to any political party in the elections. They give you all voting rights which includes local and national elections, as well as referendums. A British Citizen can also take part in political activities without any restriction. After a person gets a UK citizenship then they can open a public office, or hold different campaigns for a political party. A person can also appear as an individual candidate or can join any party without constraints. With the right to vote opportunity, a person will be able to take part in the country's policies and leadership.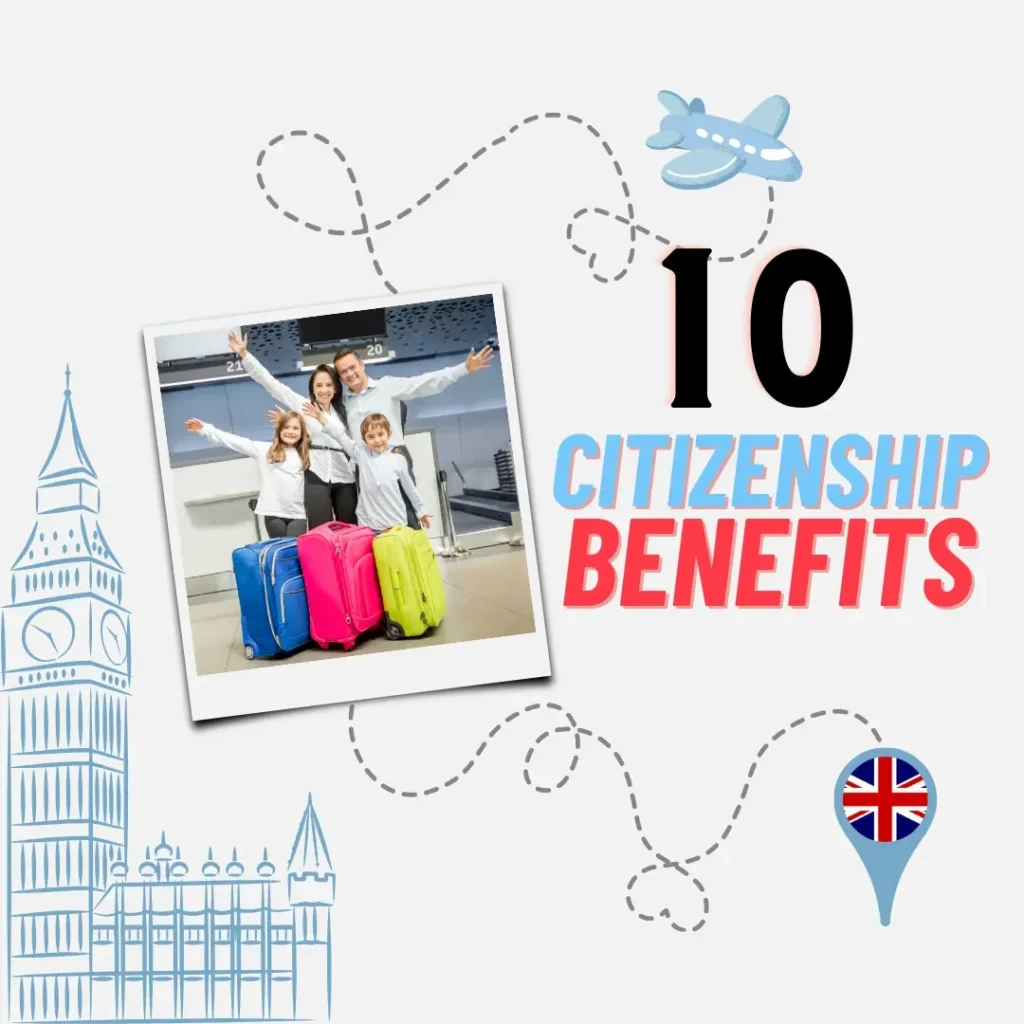 3. Health Care Services:
British Citizens will get free healthcare services from the National Healthcare System. This NHS is a publicly funded system that covers the medical bills of its citizens and provides access to a wide range of social services and benefits, including healthcare, education, and unemployment benefits. The healthcare system of the UK is one of the leading systems in the world. This can provide you access to world-class physicians and healthcare workers and you do not have to worry about paying for your medications whenever you need them. These services are often more extensive for citizens than for permanent residents. If you are a permanent resident then you get free healthcare services but for only some issues so, get your citizenship as soon as possible to get full coverage and free healthcare services in the United Kingdom. This is one of the biggest top 10 benefits of UK citizenship.
4. Jobs Opportunities:
The economy of the United Kingdom is very strong. They provide a lot of job opportunities with a lot of benefits and a good salary. British citizens do not need a job license if they want to apply for any job. You can apply to any sector without any restrictions or extra requirements if you are a British Citizen. You will get a competitive salary in the UK because of their strong economy. Many Job opportunities are available in various industries, but the most in-demand jobs are in health care, banking, finance, education, engineering, and marketing. As a British Citizen, you can also apply for government jobs and civil services, they do not stop you because you are now a UK citizen and you will get all the opportunities that a British citizen will get. By becoming a citizen, you can increase your eligibility for these types of roles that often come with competitive salaries, benefits, and job security and this is the reason it comes under the top 10 benefits of UK citizenship.
5. Cultural Integration:
After getting UK citizenship you will receive a deeper sense of cultural integration and identity. This benefit allows a person to fully embrace British culture. They can participate in national celebrations and traditions without any fear and take pride in being part of a diverse and historically rich society. This thing makes it one of the biggest advantages of acquiring the top 10 benefits of UK citizenship.
6. Dual Citizenship:
The dual citizenship of the UK is one of the biggest Top 10 Benefits of UK Citizenship. The United Kingdom provides access to individuals to retain their citizenship of another country and enjoy the advantages of British citizenship. A person can hold dual as a British Citizen. This access provides flexibility, and it also helps people to maintain ties to their countries of origin. You can travel to your home country and live there for a long time because you have dual citizenship. A person gets unique opportunities for travel, business, and cultural connection with these dual citizenship benefits coming under the top 10 benefits of UK citizenship.
7. Protection: Top 10 benefits of UK citizenship
The British law provides full protection to all its citizens. All the Citizen will get all the constitutional rights and freedoms which includes protection against deportation, which permanent residents are subject to if they commit serious crimes. If you have British Citizenship then it gives you a stronger legal status within the country and many people consider this reason as top 10 benefits of UK citizenship.
8. Sponsor Family Members:
The UK citizen will sponsor their family member for visas and permanent residency because they now a full rights as British Citizens. You as a British Passport holder can help them join you in the UK without the delays and limitations that are faced by non-citizens. With this benefit, a person can more easily and quickly reunite with family members living abroad. Many migrants consider this factor as the top 10 benefits of UK citizenship.
9. Global Mobility:
The United Kingdom is recognized as the strongest and most powerful country in the world. The citizens of the UK will experience greater peace of mind knowing they have a stable and secure status in a developed country. This global recognition status is very beneficial for business ventures, international job opportunities, and retirement planning. They will get a level of security during times of global instability or crises with this citizenship.
10. Public Funds:
Many countries do not allow their visa holder citizen to demand public funds but in the UK if you are a citizen then you can claim for public funds and they will provide you with the funds. Benefits you can claim with these funds will include the jobseeker's allowance or child benefit etc. This facility is also one of the strongest factors towards the top 10 benefits of UK citizenship.
United Kingdom Citizenship opens the door to many opportunities and advantages. This citizenship will provide a lot of benefits, encompassing political rights, travel privileges, employment opportunities, social services, family reunification, legal protection, cultural identity, and global mobility. All these benefits will make UK citizenship a highly desirable status for immigrants and for long-term residents. Citizenship offers a person a sense of belonging, access to a wide array of services, and the opportunity to shape the country's future through political participation. In this article, we try our best to cover the top 10 benefits of UK citizenship.