Becoming a U.S. citizen is a dream for millions of immigrants who come to the United States seeking a better life, opportunities, and the chance to fully participate in American society. One of the crucial steps on this path to citizenship is passing the U.S. Citizenship and Immigration Services (USCIS) citizenship test. In this article, we will explore the USCIS citizenship test, its components, preparation tips, and its significance in the naturalization process.
STEP Towards US Citizenship
The steps for getting US citizenship in the test process consist of three parts:
List: Download the list of the latest 100 questions that come in the civic part test from our website 
Preparation: Start preparing for the test before you apply for citizenship. Do more and more practice with our training programs and quizzes.
Pass the test: Prepare well and be confident when you go to the test center. Revise all the things before the test and do your best to pass it in the first attempt by preparing it from our training programs.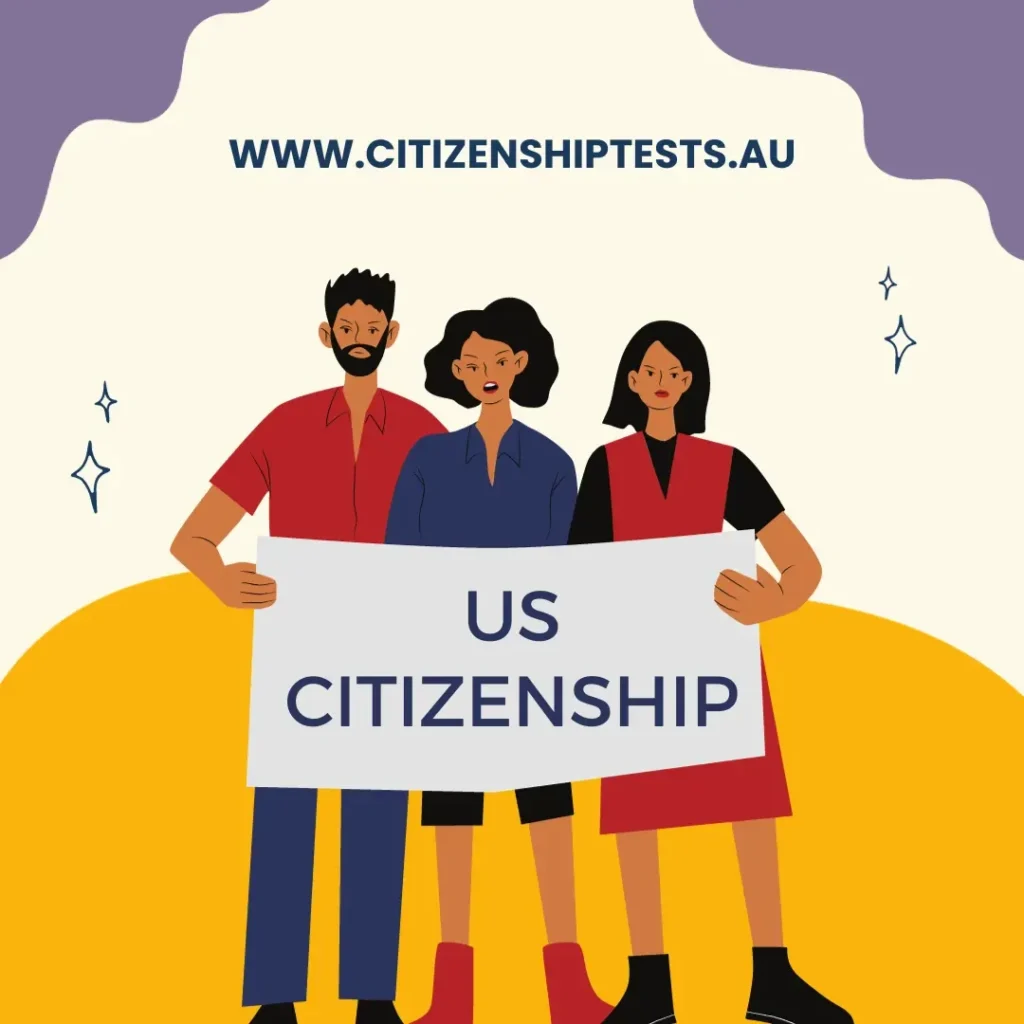 Understanding the USCIS Citizenship Test
The USCIS citizenship test is a key part of the naturalization process, designed to assess an applicant's knowledge of U.S. government, history, and civics. This test consists of two main components: the civics test and the English language test (if applicable).
Civics Test: The civics test is perhaps the most well-known part of the USCIS citizenship test. It covers a wide range of topics related to the United States, including its history, government structure, the Constitution, and the rights and responsibilities of U.S. citizens. There are 100 potential questions, but during the naturalization interview, the USCIS officer will ask up to 10 questions, and the applicant must answer at least 6 correctly to pass this portion.
English Language Test: If required, the English language test assesses an applicant's ability to read, write, and speak English. This part includes reading and writing sentences in English and responding to questions in English during the interview.
Preparation Tips for Success: USCIS Citizenship Test
The USCIS citizenship test is a significant milestone, and adequate preparation is crucial to passing it successfully. Here are some valuable tips to help you prepare:
Use USCIS Resources: USCIS provides free study materials, including the official USCIS civics questions and answers for the test. Utilize these resources, as they are a reliable and accurate source of information.
Study Regularly: Allocate time for regular study sessions. Consistency is key to retaining information. Consider creating a study schedule to cover all relevant topics.
Flashcards and Practice Tests: Create flashcards for key facts, terms, and historical dates to help with memorization. Additionally, take practice tests to gauge your progress and identify areas that need further study.
Seek Educational Programs: Many communities offer citizenship preparation classes and workshops. These programs can provide structured learning and support.
Use Online Resources: There are numerous online resources, including websites, videos, and apps, dedicated to helping applicants prepare for the citizenship test. These can be a valuable supplement to your study routine.
Simulate the Interview: Practice answering questions orally with a friend or family member to simulate the interview experience. This can help boost your confidence.
Significance of the USCIS Citizenship Test
The USCIS citizenship test serves several important purposes:
Assessment of Knowledge: It assesses an applicant's knowledge of essential aspects of the U.S. government and history, ensuring that new citizens are informed about their rights and responsibilities.
Integration: Preparing for the test encourages immigrants to learn about the country they are joining, fostering a sense of belonging and integration into American society.
Communication Skills: For those required to take the English language test, it assesses their ability to communicate effectively in English, which is essential for full participation in American life.
Civic Participation: Passing the test is a milestone in the naturalization process, signaling an individual's readiness to become an active, engaged citizen who can participate in civic activities such as voting and jury duty.
Accommodation Request
The USCIS will provide you with accommodation for the US citizenship application if you request it in case of disability or any other need. You can make an accommodation request if you are blind, deaf, use a wheelchair, or are injured and you face issues in writing. You can bring an interpreter and take extra time if you are disabled or old. If you are a senior citizen and you cannot travel to the designated test center, then you can get a center near your home, or if the person does not travel properly, they can give a test at their home under the inspection of the USCIS team. 
If you want any type of accommodation, you must notify USCIS before the exam date by doing one of these things:
Write the accommodation type on your naturalization application form.
Contact the USCIS center at 1-800-375-5283
Call your field office
If you make a request and the accommodations are not available on the original date of your exam, then they will transfer your exam date to another day and notify you before the exam date. 
Test Date
After you submit the N-400 form within a few months, you will receive an email at your address about your appointment. The test date and location are all written in that email. If you change your address, then you have to inform the USCIS on time because they do not send the notice the second time if you fail to receive it then you do not get a second chance. If you are not available on the appointed date, then tell the officer before the test or interview date the reason why you are not available and ask them to reschedule the appointment before the test. Remember that you will receive another schedule after many months, so make sure to attempt the test on the appointment date given by the officer; otherwise, you will have to wait longer. The administration will close your case if you do not come for a test and do not inform them of anything. You had to contact the administration within one year, and if you do not contact them, then your application will be rejected.
Tools
The tools we are providing in our training program that can help the applicants prepare well for the test are:
N-400 Quiz that will test your basic greeting skills with voice note
N-400 Vocabulary Test that will provide you with vocabulary-related things with voice notes.
Reading, command, and small talk tools with pictures and voice notes can help you prepare for these oral conversation tests. 
List the 100 or 180 civics questions that are recommended by the officials.
Quiz with multiple-choice questions on the provided list
A flashcard that can help you remember the civics questions and answers
Videos with test questions and answers for both parts
USCIS Citizenship Ceremony
The USCIS will give you a schedule to take the Oath of Allegiance at a citizenship ceremony after you pass the test and interview. Taking the oath is the last step before becoming a US citizen. The applicants will receive the result on whether they pass or not on the interview day, and if any citizenship ceremony is available on the interview day, then you can attend it; otherwise, the officer will provide you with a schedule by mail with an N-445 form. You had to mail the officer if you were not able to attend the oath ceremony on the schedule with a valid reason. They will reschedule your oath ceremony for a new date. Your citizenship will be rejected if you do not appear in the oath ceremony more than once. In the citizenship ceremony, you had to bring the filled-out N-445 form and all the documents that are written on that form. You also had to return your permanent resident card because, after taking the oath, you do not need it. After you submit all the papers and documents to the officer in the ceremony, an officer will reach out to you and speak some oath-taking words. You have to repeat these words, and then you will become a US citizen. 
Missing the Oath Ceremony
If you missed your scheduled oath ceremony for U.S. citizenship, it's important to take prompt action to address the situation and reschedule the ceremony. Here are the steps you can typically follow:
Contact USCIS: Notify the U.S. Citizenship and Immigration Services (USCIS) as soon as possible about your missed oath ceremony. You can do this by calling the USCIS National Customer Service Center at the phone number provided on your appointment notice or on the USCIS website. Explain the reason for missing the ceremony and request to reschedule it.
Provide a Valid Reason: USCIS may consider rescheduling the oath ceremony if you have a valid reason for missing it. Valid reasons might include a medical emergency, a family emergency, or other circumstances beyond your control. Be prepared to provide documentation or evidence to support your reason for missing the ceremony.
Receive a New Oath Ceremony Notice: If USCIS approves your request for rescheduling, you will receive a new oath ceremony notice with a new date, time, and location for the ceremony. It's essential to attend this rescheduled ceremony on the specified date.
Continue to Prepare: While waiting for the rescheduled ceremony, continue to prepare for the event. Review the oath of allegiance, gather any required documents or identification, and make sure you are ready to take the oath and become a U.S. citizen when the time comes.
It's crucial to act promptly and communicate with USCIS to address your missed oath ceremony. Failure to do so may result in delays in your naturalization process, and USCIS may even consider your case abandoned if you do not take the necessary steps to reschedule the ceremony.
Keep in mind that the specific procedures and policies related to missed oath ceremonies may vary, so it's advisable to contact USCIS or consult with an immigration attorney for guidance tailored to your situation.
Interview Tips: US Citizenship Application
The applicants will be nervous when they go for the test or interview. If you prepare well, you don't worry about the test. Here are some basic tips that you can follow when you are going for the US citizen interview:
Greet with a smile and speak slowly with a normal tone so that the interviewer will understand you easily.
Try to make eye contact with the interviewer because it is a sign of confidence, and the officer will think that you are confident and truthful.
Answer the question in a straightforward and indirect way. Do not explain it in a long way because the officer does not want an explanation; they only want an answer.
Do not interrupt between the question and when the officer is speaking. Wait until they stop talking.
You should not affect your interview with the behavior of the interviewer. The interview may be polite or rude, so prepare well to face any type of person.
Remember, if the person who takes your interview is very rude and rejects your application wrongly, then you have a right to complain against them; complaining about them does not affect your citizenship. 
Benefits of our training program:
The benefits applicants get if they prepare with our USCIS citizenship Test training programs are:
You can access the training program without cost. It's completely free.
You can memorize all the test information easily with our designed programs.
We have different tools that can help you in the preparation of all the test parts.
We conduct different online training sessions that can help you in the interview process. 
The test question is of the same pattern as in the real test, so you cannot be supposed to know when the real test came because you have been practicing with the same pattern.
The training program quizzes are available 24 hours a day, so you can access them and start practicing at any time.
The training program quizzes are compatible with every device, so you can start practicing the quiz on your mobile device, PC, etc.
Is it necessary to take a citizenship test if I want US citizenship?
Yes, it is mandatory to take and pass the test if you want to get US citizenship.
Can I get a second chance if I fail one part of the US citizenship application on my first attempt?
Yes, two chances are available, and you had to pass the test within the two chances.
Is your training program and assistance free for US Citizenship Application?
Yes, our US citizenship training program is completely free. You can prepare, give quizzes, and take training tips without paying any cost.
Can I bring my children to my interview?
No, you cannot bring them with you on the test day and interview. This can cause frustration to the officer, so it is recommended not to bring them. 
I missed my Oath ceremony. What can I do now?
You had to contact the UCSIS officer as soon as possible. Give them a valid reason why you did not attend the ceremony. They will reschedule your ceremony, and you have to be available on that date; otherwise, your citizenship will be rejected.
The US citizenship test is mandatory for every applicant who wants to get citizenship in the US. The test parts, documents, and all other things are explored on our website. You can join our training program for the US citizenship test if you want to pass your citizenship test in one attempt.